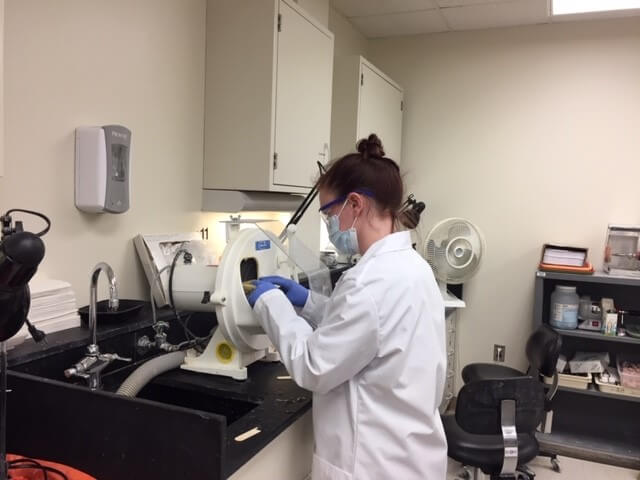 Citing a shortage of dental assistants in New Hampshire and across the nation, Lisa Scott, Dental Assisting Program Coordinator at NHTI, Concord's Community College, set about to develop an online course in its Dental Assisting Program.
Her efforts have resulted in Dental Assisting Science I, available for the first time this fall for New Hampshire high school juniors and seniors.
"I wanted to create something more accessible to students in the state who would have to drive a long distance to take the course if it wasn't available online," she said.
Dental Assisting Science I is part of the Community College System of New Hampshire's eStart program, which offers courses with a tuition of just $150 plus the cost of books.
Scott said students who complete and pass the course, however, qualify for tuition reimbursement through the Governor's STEM initiative.
"This is a great opportunity for students who might have an interest in this career pathway, and the cost is very minimal," she said.
As for the course itself, it is 3-credits, which can be transferred when students are accepted into the dental assisting one-year certificate program, the only one in NH accredited by the Commission on Dental Accreditation.
Subjects covered in Dental Assisting Science I include the anatomy of the head with an emphasis on the osteological landmarks and structures of the oral cavity. Both the permanent and primary dentitions are covered, including embryonic development and eruption patterns, as well as an introduction to the structure and function of the human body systems in health and disease.
She said the course rhetorically answers several questions.
"Did you know every tooth has a name and a number?" she said. "Ever wonder what those bumps are all over your tongue?
Other questions include: Did you know the oral cavity can give us information about diseases in the rest of the body and did you know teeth were part of the digestive system?
"This course is a great way to explore the dental assisting profession as a career option," said Scott, who said program graduates are able to perform a variety of duties.
"They are qualified to perform all of the expanded duties that are legal in New Hampshire, such as coronal polishing, exposing dental x-rays, placing sealants, monitoring nitrous oxide and other duties," she said.
According to Scott, who is also a Certified Dental Assistant and Dental Hygienist, the course serves as a gateway to what she describes as "an exciting and rewarding career."
"As a healthcare provider, dental assistants help patients with good oral health and overall health, and it is a career I have very much enjoyed," she said.
To learn more about the course, or enroll, contact Scott at lscott@ccsnh.edu or Kelly O'Brien at kobrien@ccsnh.edu.
Program information is also available at https://www.ccsnh.edu/colleges-and-programs/programs-for-high-school-students-to-earn-college-credit/estart/2020-course-schedule.