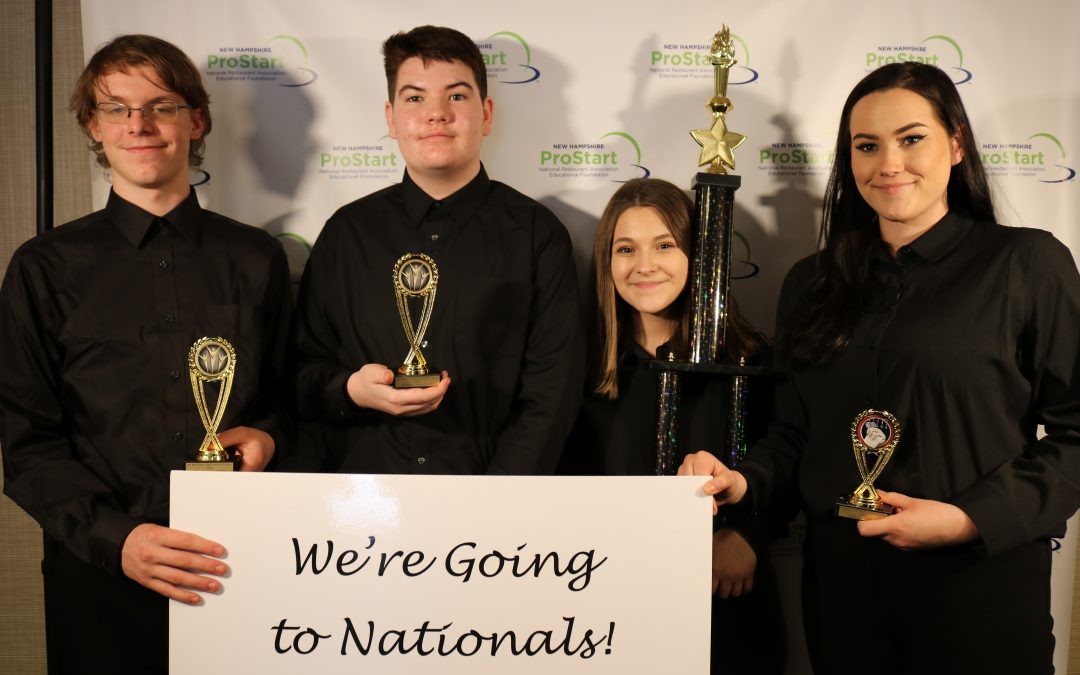 In March, dozens of students came together to compete in the categories of Culinary and Management at the New Hampshire ProStart State Invitational.
Mount Washington Valley Career & Technical Center (MWVCTC) won in the Culinary category while Pinkerton Academy took first in Management.
According to Amie Pariseau of the New Hampshire Lodging & Restaurant Association (NHLRA), however, the story is not going to continue in the way everyone expected.
"Our first place winners were invited to compete at the National ProStart Invitational in Washington D.C. in May, but COVID-19 forced the cancellation of the regional and national invitational events," she said.
All is not lost, though, noted Pariseau, who cited several rewards for the student.
"The National Restaurant Association Education Foundation will be providing a gift card worth $150 to each state's first place culinary arts and restaurant management team members," she said. The foundation will also be offering a $1,500 scholarship to the 2020 graduating ProStart seniors on each state's winning teams."
Acknowledging NHLRA shares in the disappointment of the teachers and their students in not being able to experience the Nationals and visit D.C., Pariseau said it does not lessen the students' achievements.
"NHLRA is working with both schools of the winning teams to provide a way to celebrate their accomplishment with their team and families in some way this summer," she said. "We're very proud of them and want to recognize them for their commitment and dedication."
This commitment and dedication, she said, led to "impressive performances at the ProStart State Invitational.
Kaylee, Jaime, Riley, Tristan and Sierra from MWVCTC created a menu that featured: an appetizer of crispy calamari and lemon served with harissa aioli and chermoula oil; an entrée of moroccan rubbed rack of lamb with pomegranate reduction, lemon-cilantro vinaigrette tossed with rainbow fingerlings, and sautéed vegetable hash; and a dessert of vanilla bean panna cotta served with grapefruit and brown sugar caramel and topped with spiced pistachios.
"They executed this high-level menu in 60 minutes using only two butane burners, no running water, and no electricity," said Pariseau. "That's incredible. We were very fortunate to have executive-level and ACF certified chefs as judges, all of whom said the caliber of the menus and the execution by our ProStart students was outstanding."
In the management category, Pariseau said John, Lily, Angelina, and Matthew from Pinkerton Academy designed Wild Bamboo, an Asian restaurant devoted to the environment and sustainability.
Their menu featured a dumpling soup, bibimap (a Korean rice dish topped with beef sautéed vegetables and a fried egg), duck (statler duck breast seared with the skin on, paired with bamboo rice and a tat soi-mushroom sauce, beef (sliced flank steak sautéed with onions, served with a side of fresh vegetable), and a steam cake.
"The judges were highly impressed by their QR coupon code and the website they designed from scratch," she said. "We were fortunate to have judges from all facets of the industry. Many of them were ready to hire our very talented students on the spot based on their ideas, creativity and presentation skills."
Pariseau said competing students will also receive a variety of scholarships from Great Bay Community College, Lakes Region Community College, NHTI, White Mountains Community College, Johnson & Wales University and the Culinary Institute of America.
"Despite COVID-19, there are a lot of positive takeaways for the future from this year's ProStart State Invitiatonal," added Pariseau.
To learn more about ProStart, visit https://www.nhlra.com/nhprostart.html.