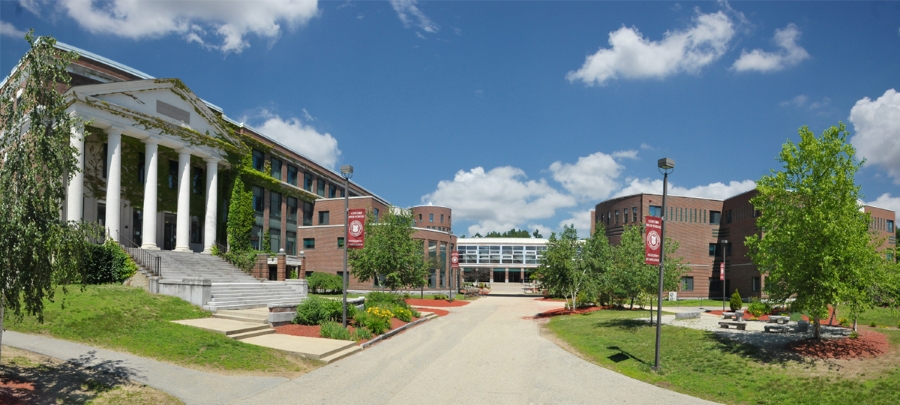 While English is often viewed as a stand-alone academic subject, Beth York, English teacher and reading specialist at Concord High School, said it is time to rethink that paradigm.

"Most people in the working world will be using their literacy to persuade, inform, instruct, remedy, or collaborate in order to achieve a goal," she said.

Citing many high school English teachers as "very good" at teaching persuasive, informative and narrative writing and speaking as well as careful, analytic reading of great literature, York said she and other Concord English teachers have been trying a new approach.

"Through Career Communications class, we are striving to place student literacy instruction into contexts they will one day encounter in the workplace," she said.

While students typically associate English class with novels, films and poetry, York said the reality is that they will spend their days in the workplace leading meetings, engaging with customers, or drafting content for stakeholders.

"They will use their literacy skills to ask for raises or promotions and to direct their professional lives," said York. "The classroom and workplace experiences should not be so distinct."

She said great novels, poems, films and essays still have their place, however, as she noted they make us better thinkers and human beings.

"Reading rich, honest storytelling makes us more empathetic and enables us to engage more fully with the world and with each other," she said. "We need to keep these inspirational aspects of literacy instruction while adding the more aspirational ones."

These aspirations aspects will assist students in learning how to persuade or negotiate in the workplace using audience awareness and sound reasoning.

"Once in the workplace, they won't often write five paragraph essays, but they will need to understand how to adjust the structure, tone and content or their writing to effectively reach particular audiences for particular purposes," she said.

With these ideas in mind, York said Steve Rothenberg, Concord High School's CRTC Director asked her to collaborate with him and other English teachers to design and launch Career Communications.
"I immediately signed on," she recounted.

Designed with an optional ½ credit Extended Learning Opportunity (ELO), the course is comprised of classroom time learning, practicing and demonstrating English skills, research and a project in the field or outside of class.

"In this class, I hope to help students develop literacy skills and habits that can support their future workplace success," said York.

Success in the course is defined across 5 core competencies.

Competencies:

Reading: Students will demonstrate the ability to comprehend, analyze, and critique a variety of increasingly complex print and non-print informational texts.
Writing: Students will demonstrate the ability to write different texts for different purposes, including reasoned arguments backed by evidence, informative texts conveying complex ideas, and narratives.
Research: Students will demonstrate the ability to locate, compile, organize, analyze, integrate and present topical information.
Speaking, listening and viewing: Students will demonstrate the ability to listen and view critically and to speak purposefully and effectively for a variety of purposes.
Technology: Students will demonstrate the ability to use multiple forms of technology, including digital media and the Internet, to access, evaluate, organize and communicate information.
The goal of the course, noted York, is "to enable students to positively impact their future workplace and to further their own career through the skillful application of effective reading, writing and interpersonal communication strategies."

To prepare to teach the course, she said she spent time interviewing industry professionals in fields relevant to her CRTC students' programs, listening to CRTC colleagues and reading everything relevant [she] could get [her] hands on."

"I interviewed several industry professionals, including the Director of Human Resources from Concord Hospital, a local fire captain, the service manager of a large auto dealership, a police detective, the president of a large construction firm, two salon owners and others.

"I wanted to learn about the literacy skills they use daily, the materials they read to stay up-to-date in their fields, and the skills and qualities they look for in new hires," she said. "These conversations and experiences helped me to create a framework for teaching this course."

Through this research, she said she was able to recognize universal skills common to each workplace.

"In all career fields, we will need to inform and persuade," she said, "and there are universal strategies for doing so effectively and in a manner that will generate return customers or support collegial relationships."
York also found several skills unique to each workplace.

"The audience and context within which a police officer or EMT works is different from that of a graphic designer or chef," she explained. "Students need to practice applying skills flexibly with consideration of the contexts and audiences they will likely encounter in the field."

For York, the course underscores something that should be fundamentally understood in today's education model.

"I believe that our ability to read, write and speak effectively serves as our bridge to the wider world," she said. "It is how we how we come to understand, engage with and sometimes shape our society."

In part two of this two-part series, we look more closely at Career Communications at CRTC.