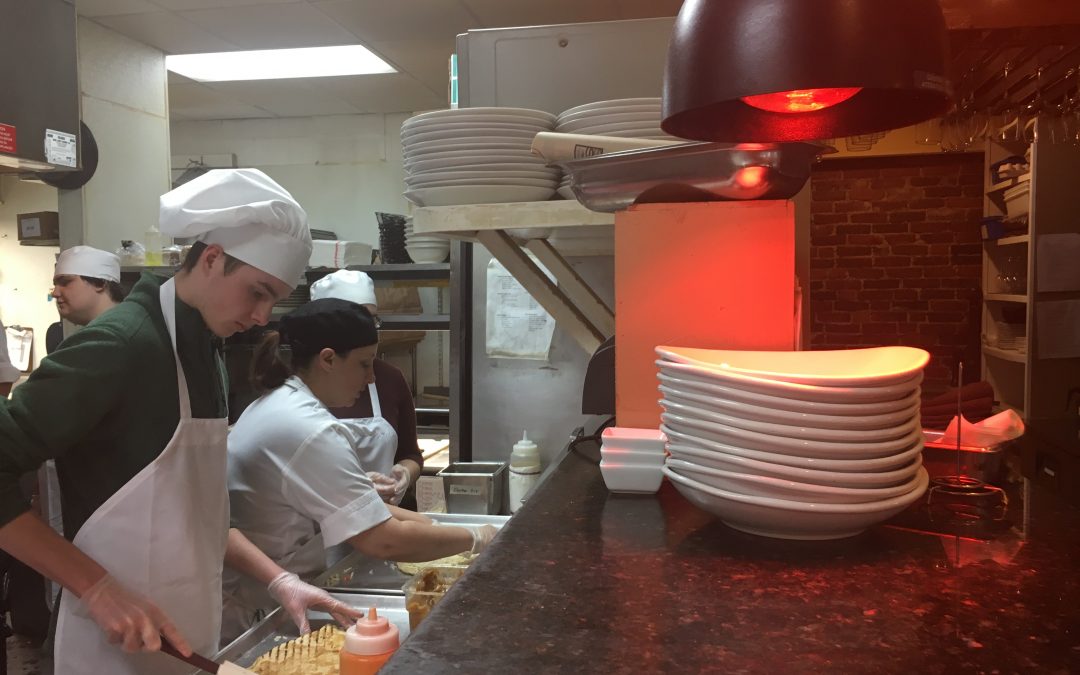 In 2017, the New Hampshire Lodging and Restaurant Association (NHLRA) attended several sessions at the annual CTE Summer Conference to better understand the CTE model, which led to increased involvement at the same event this August.
We find our relationships with CTE centers integral to developing and strengthening the hospitality industry. In 2017, we attended several sessions as a way to further understand the CTE model, learn about successful messaging techniques, and network with teachers and administrators. In 2018,
"As Hospitality Sector Advisor for the Sector Partnership Initiative, we were invited to host a panel on 'Connecting the Dots in Hospitality,'" said Amie Pariseau, NHLRA education and workforce development director.
The panel consisted of two members of industry, two educators, one career counselor, and one student.
"We also participated in a larger forum about the Sector Partnership Initiative and attended sessions," she added.
In commenting on the theme of 'Connecting the Dots in Hospitality,' Pariseau said the NHLRA wants to connect industry leaders with students both in the classroom and in industry settings.
We want to introduce kids to what the restaurant, lodging, and tourism industry is all about," she explained. "We're providing them with a real sense of the broad range of opportunities available to them."
She said some examples of how NHLRA is accomplishing these objectives include the following:
Inaugural New Hampshire Hospitality Month in April 2018
21 industry sites (hotels, restaurants, a ski mountain, a winery, Delta Dental Stadium) hosted 39 tours that introduced 320 students to various areas of the industry.
Girls Incorporated
NHLRA presented to 30 young ladies (grade 6-10) at a Young Women's Leadership Camp about the nature of the hospitality industry, available careers, and importance of the industry to the state. Two women chefs joined the group for a food demonstration.
The Downtown Manchester Hotel also hosted an industry panel of women holding leadership roles at the property- general manager, controller, banquet manager, executive housekeeper, restaurant manager, front office manager, and director of sales.
"The attendees listened to what their job involved and their path to get where they are," said Pariseau. "It was open to question and answer as well.
Five women from industry (executive chef, restaurant owner, training/ leadership director, director of events, on-site catering/ off-site catering manager and social media manager) also attended their wrap-up Career Fair.
"The campers had one-on-one time to ask questions and interact with the women," she said.
Granite State College
"There is a need to support continuing education in the hospitality industry," noted Pariseau, which she said explains why the NHLRA and Granite State College partnered to design a "workshop series" to fill that gap.
"This certificate program covers topics such as leadership, effective communications, and conflict management," she said.
Across the three groups, 62 industry members focused on leadership, communication, and conflict resolution. Out of the 62 attendees, 48 completed all three sessions and received a certificate of participation endorsed by Granite State College and the NHLRA.
The next series, entitled Managing Human Resources in Hospitality, will take place this fall.
Why work with CTE Centers?
As far as Pariseau and the NHLRA itself is concerned, becoming more involved with CTE centers statewide in New Hampshire makes sense in a number of ways.
"The NHLRA is working to engage students about what hospitality is and what this great industry is all about," she said. "It's not just about being a chef or a front desk manager. Those are two well-known and needed careers, but it's also about event managers, auditors, human resource managers, social media marketers, and more."
She added, "Career pathways in hospitality reveal the 'promote from within' mindset and the increasing salaries that build with experience."
The evolving partnership with CTE in NH also helps highlight the NHLRA, which Pariseau readily acknowledges is not well known by the general public
"We would like parents, non-NHLRA members, and other community resources to know that we can be a resource in regards to educational possibilities and industry connections such as job shadows, internships, and employment," she said.
She said the NHLRA fully supports the efforts of the CTE centers.
"We will continue to share the network of engaged industry members to provide access to in-school and out-of-school opportunities to their students," she said.
To learn more about the NHLRA, visit https://www.nhlra.com.