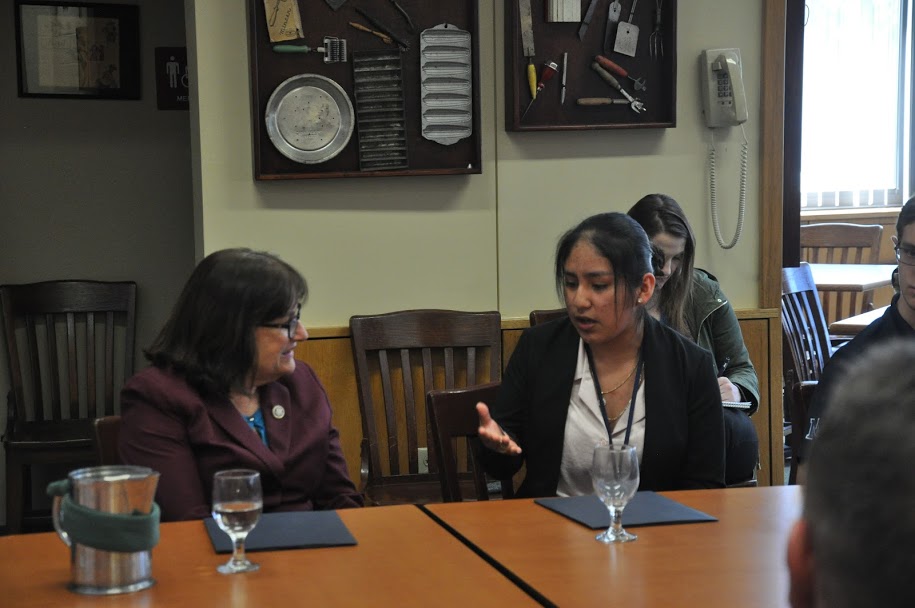 At Milford High School & Applied Technology Center (ATC), educational experiences in Engineering has opened up possibilities for several students, including junior Veronica Sillerico and senior Matthew Hannon.
"I took Engineering Design to get a better idea of what a career in engineering would be like in my first year of high school," said Sillerico.
She also participated in the school's Manufacturing and Externship Program in which three companies–Spraying System, Alene Candles, and Hitchner–work collaboratively to engage students in both educational and working environments.
"I plan to take the Externship Program for next semester," added Sillerico, who said program at ATC attracted the attention of Congresswoman Annie Kuster last year.
"She visited the school and spoke with students, teachers, the companies involved, and four ambassadors to speak with her at a roundtable discussion, myself included," she said. "After the meeting, I asked the Vice President of Spraying Systems if I could take a summer internship at the company, which he accepted."
Sillerico noted she had "a remarkable experience there," which has led her to seriously consider pursuing a Mechanical Engineering or Computer Programming career.
For Hannon, his aspiration is to earn a degree in Mechanical Engineering. Although he plans to attend Virginia Tech, he has also been accepted at Norwich University and SNHU.
"For a long time, I was looking into aerospace/aeronautical engineering but thought that Mechanical was broad enough that I could apply it to many different fields," he explained. "I feel that I gained a lot of experience in Mechanical Engineering through the Robotics class I took sophomore year."
This class, he said, incorporated a lot of problem solving and technical skills that helped intensify his interest in the subject.
"One of my favorite projects was this 'Crain Robot' that me and my partner, Jack Vogel, had to build in Robotics," he said. "I thought it was one of the more difficult robots to build and code and therefore was, in my opinion, the most fun to build."
Aside from her work in school, Sillerico has pursued other pathways, one of which includes her recent acceptance to BAE's Women in Technology Program.
"I also wrote an ELO ad campaign developed by Cookson Communication for a Work Based Learning event at Manchester Community College," she added.
In looking ahead to the future, Hannon said his experience at ATC has helped him appreciate an important concept.
"Failing is going be a part of the learning process," he said. "Honestly, it makes succeeding all the more amazing when it finally happens."
Sillerico added, "In this program, I have met new people and learned new ideas and acquired soft skills that I believe impact me as a person and eventually will bring forth greater opportunities."