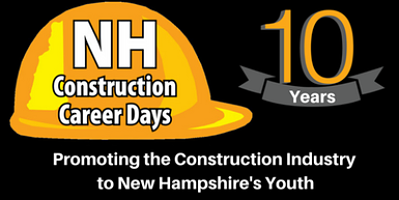 This year's Construction Career Days are scheduled for September 27th and 28th from 8:30-12:30.  It will be held at the Hillsborough County Youth Center Foundation in New Boston, NH.  New Hampshire Construction Career Days (NHCCD) exposes New Hampshire high school students to possible career paths in both the construction and transportation industries through a hands-on exhibits and educational resources.  Labor unions, construction companies, school districts, state agencies, trade and professional organizations collaborate to provide the students with an introduction to various aspects of construction.
This event increases career awareness in the construction and transportation industries through hands-on experience with heavy equipment, welding, small tools, plumbing, electrical wiring, surveying, waste water management, bridge construction, land clearing, underground utilities, and other construction related jobs.  Several secondary educational resources and career training pathways are available for students to learn about.  Professionals from a wide array of construction related work are available to speak with students and answer questions about their experiences in the construction industry and why they are so passionate about their career.
The day is open to all high school students, both male and female, via registration through a participating school.  In fact, one of the goals of this event is to Increase the attendance of women and minorities participating in this event to a target attendance of 25%.  Last year we were able to reach out to just over 14% females and 21% minorities.